A Bright (and Colorful) Christmas Eve
Whether guests have made plans to sneak away for a romantic dinner for two or drafting a posh dinner party for ten, the vibrant and delectable four-course Christmas Eve prix fixe menu will elevate the occasion. The meal starts at $75 and includes a soup, appetizer, one of three choices for the main dish, and a dessert. Inspired by tropical hues and Christmas motifs, the menu resembles a work of art featuring:

Appetizer
Steamed king crab in aioli sauce over a bruschettawith a spread of guacamole, mango pico de gallo,and sliced root vegetables

Soup
Cauliflower and brie cheese pottage with black truffle slices

Entree (Choice of one)
* Grilled beef loin withfond de veau, basil andpomegranate sauce
* Grilled lobster marinated in Thai-style lemongrass sauce
* Surf & Turf (a combination of the two options listed above for an additional $10)

Dessert
Warm choux with marinated strawberries, raspberries,blackberries, blueberries, and vanilla ice cream.

The Christmas Eve Prix Fixe Course is available only on Monday, December 24, during dinner. Guests may also request an optional wine pairing at $20. Varied main dish options may affect the price.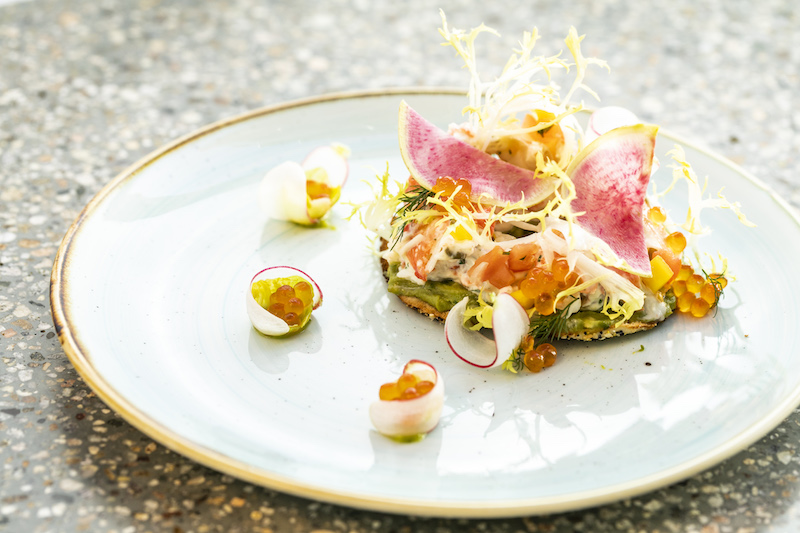 Christmas and New Year's Day Buffet
Enjoy the air of magic on Christmas Day (and New Year's Day) with an equally enchanting buffet. The buffet will be available on Tuesday, December 25, and on Tuesday, January 1, from 10:30 AM - 7:30 PM. Ideal for the whole family, the holiday buffet is $55 for Adults, $40 for Seniors over 65, and free for children under 10. The bar will also open from 7:30 - 10:00 PM for night owls looking for a nightcap.

New Year's Eve All Day Champagne
Kick off the countdown to 2019 at Deck. with All-Day Champagne specials, a glass of champagne is $5. Mimosa Sets will also be available with an additional $9 for carafes of juice (Lilikoi, Guava, and Orange). There will also be $3 beer by the glass for those that prefer a malt top instead.

Deck.
Address: Queen Kapiolani Hotel, 3rd Floor
150 Kapahulu Ave.
Honolulu, HI 96815

Phone:(808) 931 - 4488

Business Hours:
6:30 AM -11:00 PM, Monday - Saturday
6:30 AM - 10:00 PM, Sunday

Holiday Hours:
12/24 Christmas Eve:Prix Fixe Course Dinner, 4:00 - 11:00 PM
12/25 Christmas Day:Christmas Day Buffet, 10:30 AM - 7:30 PM
Bar, 7:30 PM - 10:00 PM
12/31 New Year's Eve: 6:30 AM -9:00 PM
1/1/19 New Year's Day: New Year's Day Buffet, 10:30 AM - 7:30 PM
Bar, 7:30 PM -10:00 PM

Credit Cards Accepted: Visa, Master, JCB, Amex, Diners, Discover
Parking: Validated Valet Parking Available
Free WiFi