FRUITFUL SUMMER AHEAD: Appetito Craft Pizza & Wine Bar Unveils Seasonal Fruit Pizza
(Honolulu, HI)—Imagine taking a bite out of a Napoli-style crust, perfectly crisp yet satisfyingly chewy. The next taste floods you with fresh strawberries and local apple banana studded with bursts of sweet, juicy locally-sourced mangoes. Topped with a light dusting of powdered sugar and a drizzle of local honey, the creamy Mascarpone cheese and Nutella base ties it all together— a fresh bite for breakfast that's neither too sweet nor too heavy. Not to mention, the colorful and personal-sized pie is sure to be an Instagram darling.
The brainchild of Regional Executive Chef Hiroyuki "Hiro" Mimura, the new seasonal Fruit Pizza ($14.95) at Appetito Craft Pizza & Wine Bar features the perfect Hawaiian summer fruit: Mangoes. Each order comes with a side of kale salad (with berry dressing) and a glass of selected juice or coffee.
The restaurant will also start offering cold press juice by famous local brand Govinda's Fresh Juice with favorites that include Hawaiian Smoothie, Carrot, Ginger Rush, and Spirulina Punch.
The fruit pizza is made-to-order. Breakfast is served from 7:00 – 11:00 AM, daily. Validated self-parking is available at OHANA Waikiki East by Outrigger for all guests.
About Appetito Craft Pizza & Wine Bar
The 5,543 square-foot open-aired Appetito Craft Pizza & Wine Bar celebrated its grand opening on January 20, 2018. With a menu designed to encourage sharing, Regional Executive Chef Hiroyuki "Hiro" Mimura's creative gourmand expertise influence the authentic Italian dishes that include a range of Neapolitan-style pizza, 26oz T-bone steak, Cauliflower Frittos, and Matcha green tea Tiramisu; the limited menu will rotate regularly with seasonal bounty and Chef's inspiration.
The vibrant Wine Bar features a select list of over 100 fine wines available by the bottle and by the glass, along with craft beers, homemade limoncello liqueur, and handcrafted cocktails inspired by the island's culture.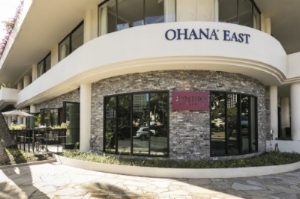 Appetito Craft Pizza & Wine Bar
Address: OHANA Waikiki East by Outrigger
150 Kaiulani Ave., Honolulu HI 96815
Phone: (808) 922 – 1150
Business Hours: 7:00 AM – 10:00 PM
-Breakfast: 7:00 AM – 11:00 AM, daily
-Lunch: 11:00 AM – 3:00 PM, daily
-Happy Hour: 3:00 PM – 6:00 PM, daily
-Dinner: 5:00 PM – 10:00 PM, daily
Appetito Craft Pizza & Wine Bar
Address: OHANA Waikiki East by Outrigger
150 Kaiulani Ave., Honolulu HI 96815
Phone: (808) 922 – 1150
Business Hours: 7:00 AM – 10:00 PM
-Breakfast: 7:00 AM – 11:00 AM, daily
-Lunch: 11:00 AM – 3:00 PM, daily
-Happy Hour: 3:00 PM – 6:00 PM, daily
-Dinner: 5:00 PM – 10:00 PM, daily
Website: www.AppetitoWaikiki.com
Facebook: www.facebook.com/appetitowaikiki
Instagram: @appetitowaikiki
Grand Opening Date: Saturday, January 20, 2018
Opened since: Wednesday, November 1, 2017
Restaurant Type: Casual
Dining, Italian, Wine Bar Dress Code: None